Description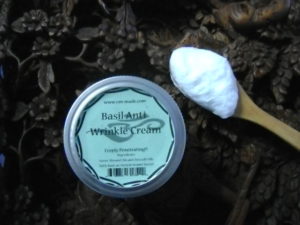 A Whole New Anti-Wrinkle Face Cream Experience;Once you use it you will be back to place more orders.
The "Secret"…the Ancient solution…."
Pure Basil,and Basil Essential Oil Extracts,as well as the pure Frankincense Essential Oils"…Proven over Millennia to be both,effective as well as totally safe on your skin,especially your face.
Best kept refrigerated to keep it fresh though it does tolerate sitting on a shelf for a long time.
Contains no artificial colour,scents,preservatives or any such things seeming deemed necessities in today's chemical body beauty product line-ups.
Try it! And see for yourself why our Customers give this "Tw0-Thumbs-Up".